In Safe Hands? The Future Of Financial Services In 2020 Webinar
Webinar Recording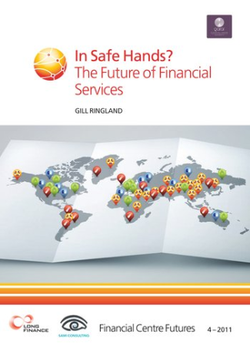 In Safe Hands? The Future Of Financial Services, an original report by SAMI Consulting and Z/Yen in 2012, asked whether the Washington Consensus might break. In 2020 we perceive that this is happening faster than we expected. In 2020, for the first time in recent history, we are facing a period in which global population starts to decline. In 2020, many of the current Financial Services institutions such as insurance are finding themselves on shaky ground. And, of course, the covid-19 pandemic accelerates many changes i the works, from home-working to moves towards government socialism of the economy. This briefing and update with Gill Ringland and Patricia Lustig will be followed by Q&A moderated by Professor Michael Mainelli.
Speakers:
Gill Ringland is now a Director of Ethical Reading. She was head of strategy at ICL (now part of Fujitsu) and is an Emeritus Fellow of SAMI Consulting. She is a Fellow of the British Computer Society, and of the World Academy of Arts and Sciences. She has been co-opted onto EC and British government advisory bodies covering IT, Economic and Social Research, and Foresight. She has worked in Europe, Mexico, Malaysia, Japan and the USA. She is the author or co-author of eight books and numerous articles. She was the author and editor of the In Safe Hands report launched in 2012.
Patricia Lustig leads LASA Insight Ltd, a strategic foresight company. She uses foresight, horizon scanning and futures tools to help organisations develop insight into emerging trends, develop a successful strategy and implement the changes. She has worked in EMEA, Asia and the USA at major blue-chip companies BP, Motorola and Logica. She is the author or co-author of four books and numerous articles. She is a Board member of the Association of Professional Futurists. Her recent award-winning book, Strategic Foresight: learning from the future is under negotiation for translation into Chinese by Science Press, Beijing.
Patricia and Gill jointly published Megatrends And How To Survive Them: Preparing For 2032. They provide the scenario planning expertise for the 'Study On Building & Piloting A Strategic Intelligence Foresight System For Future Research & Innovation (R& ) Framework Programmes' for the European Commission. Their next book aims to explore post-covid-19 futures.
Speaker(s):
Gill Ringland
Director
Ethical Reading
Patricia Lustig
Chief Executive
LASA Insight Ltd
Chairman:
Professor Michael Mainelli

Executive Chairman

Z/Yen Group