Now What? Practical Wisdom For Better Decision-Making At Work & Home Webinar
Making the most of our assets in the art and science of decision-making
"We all have a head, a heart and a gut. Faced with a decision, any combination of them could come into play . . . Becoming more conscious of how and when to use each of them might be the key that unlocks your potential to make better decisions."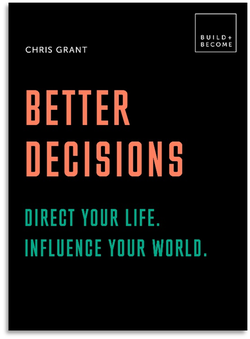 Our decisions shape our lives. Whether at home or at work, with others or alone, our capacity to read what's going on inside and around us, and to choose what to do next can make or break a campaign, a business, a relationship, a career or house move, or even a family holiday. Chris's book, Better Decisions, is published by Quarto books in June. Its 20 lessons cover a broad range of useful frameworks and techniques. In this webinar, he'll bring a selection of these to life, and create opportunities for you to consider their application to your own real-life decisions. Areas covered will include:
Agency vs Structure: Fighting for the Right to Decide
The Shape of a Decision
How Strategizing beats Strategy
The Value of Ignorance
The Wisdom of Crowds (and What Groups Need)
Speaker: Chris Grant draws on his experience of working with thousands of leaders in business, sport and elsewhere, but the lessons in his book apply as much to personal decisions as to professional ones. Chris chaired the Programme that introduced the UK's Chip & PIN payment technology. He sits on the Board of Sport England, and has facilitated strategic and operational conversations across a range of sectors, from the European Retail Real Estate Conference to the NHS Medical Directors' Forum. He's helped global industries to think about their social impact, and a national sports squad prepare for a victorious European Championship campaign. He's coached Team GB coaches, TV Executives and (literally) rocket scientists. But to Chris, the titles are less important than the people. He's fascinated by the common factors and approaches, which bring them success, or get in the way. Chris has a BA (Hons) in French Studies and an MSc. in Human Resource Development & Group Dynamics.
Date
Monday, 15 June 2020
Time
15:30 - 16:15
Cost
N/A
Book Now
Add To Calendar

Speaker(s):
Chris Grant

Chair:
Professor Michael Mainelli
Executive Chairman
Z/Yen Group