Friday Is The New Saturday: How A Four-Day Working Week Will Save The Economy Webinar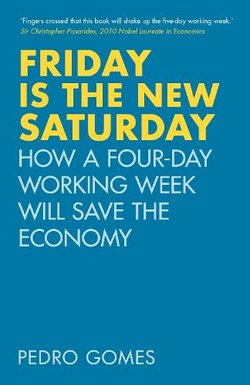 The four-day working week may seem attractive to workers, however critics are quick to point out the potential risks that a shift in working patterns would cause the economy.
A new book by Dr Pedro Gomes, Reader in Economics in Birkbeck's Department of Economics, Mathematics and Statistics, draws on economic theory, history and data to argue that working Monday to Thursday will bring about a 'powerful economic renewal for the benefit of all society'.
The book's narrative is centred around the ideas of four economists from the 19th and 20th centuries: John Maynard Keynes, Joseph Schumpeter, Karl Marx and Friedrich Hayek. Giving careful consideration to the counter arguments, Dr Gomes demonstrates how a four-day week can:
stimulate the economy through demand
raise productivity, innovation and wages
reduce technological unemployment
crush populist movements
reconcile a polarised society.
Speaker:
Dr Pedro Gomes is Reader in Economics at Birkbeck, University of London. Previously, he spent seven years as Assistant Professor at the University Carlos III de Madrid, was a Visiting Professor at the University of Essex and held positions at the European Central Bank and the Bank of England.
Pedro studied for his BSc in Economics in his hometown of Lisbon, and received his PhD from the London School of Economics in 2010. A leading researcher on public sector employment, he has published numerous articles in peer-reviewed journals and two chapters in books. His work has been widely cited and has influenced policymakers, and his paper 'Optimal public sector wages' was awarded the Austin Robinson Memorial Prize by The Economic Journal (for the best paper written by an author within five years of receiving a PhD).
Pedro values partnerships with policy institutions, and has presented his work at the national banks of Portugal, Spain, France and England, as well as at the European Central Bank and the OECD. Fluent in English, Portuguese, Spanish and French, he lives in London with his wife and daughter.
Date
Monday, 23 January 2023
Time
11:00 - 11:45 GMT
Cost
Free
Book Now

Speaker(s):
Dr Pedro Gomes
Reader in Economics
Birkbeck, University of London
Chairman:
Charlotte Dawber‑Ashley

Manager, FS Club

Z/Yen Group