Central Bank Digital Currencies In Europe Webinar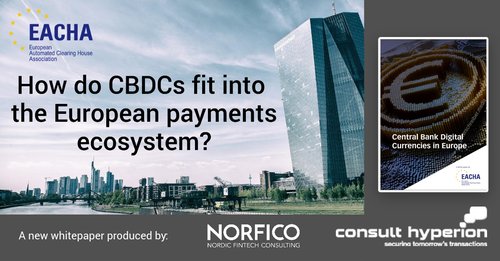 Consult Hyperion and Norfico were commissioned by EACHA – The European Automated Clearing House Association to produce this in-depth whitepaper on Central Bank Digital Currencies. The whitepaper is based on research, insights from EACHA's members and from hands-on experience from ongoing CBDC projects. We're delighted to have the opportunity to discuss the whitepaper on 20th September 2022 with the FS Club community, where Tim Richards will be walking the audience through the key points and insights. If you'd like to read the whitepaper in full, it can be downloaded here
Speaker:
Tim Richards has over 30 years experience in the payments industry and related areas, covering everything from the original EMV rollout through to e-Identity and e-Passport and including transit and mobile payments. As Principal Consultant, Tim heads up the Open Banking practice at Consult Hyperion, the international technology company specialising in secure transactions. He provides specialist consultancy to banks, payment schemes, payment scheme intermediaries and retailers.
About Consult Hyperion:
Consult Hyperion is an independent strategic and technical consultancy, based in the UK and US, specialising in secure electronic transactions. With over 30 years' experience, we help organisations around the world exploit new technologies to secure electronic payments and identity transaction services. From mobile payments and chip & PIN, to contactless ticketing and smart identity cards, we deliver value to our clients by supporting them in delivering their strategy. We offer advisory services and technical consultancy using a practical approach and expert knowledge of relevant technologies. Hyperlab, our inhouse software development and testing team, further supports our globally recognised expertise at every step in the electronic transaction value chain, from authentication, access and networks, to databases and applications.
For more information contact pressoffice@chyp.com
Date
Tuesday, 20 September 2022
Time
11:00 - 11:45 BST
Cost
Free
Book Now

Speaker(s):
Tim Richards
Principal Consultant
Consult Hyperion